Home
Welcome to the League of Women Voters of Grosse Pointe
Serving the Grosse Pointe and Harper Woods communities since 1950
Private wealth and public bodies: How wealthy individuals are making a difference in our communities
Sign up for a fascinating look behind the scenes at how philanthropy is reshaping our communities.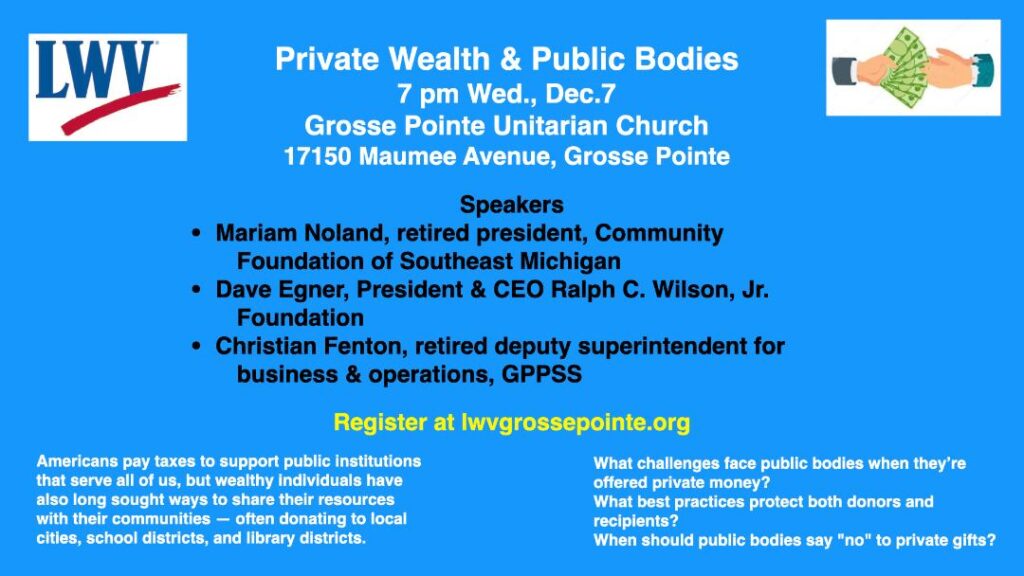 Please join us at 7 p.m. Wednesday, Dec. 7, at the Grosse Pointe Unitarian Church.
A message from Sue Acton, president, LWVGP
Thank you to the many members who served as election workers and observers, candidate forum help, GOTV and Absentee Ballot mailers and Voter Guide distributors.  It was a huge effort by a lot of dedicated members.
For members only: Please save the date for the Dec. 14 Holiday Cookie Exchange and the Jan. 11 Program Planning Dinner. Look for details in the December newsletter.
'Building Resilience to Mis- and Disinformation': Sorting fact from fiction
Social media has given everyone with access to the internet a forum to spread their views. But how do you sort fact from fiction?
Join our membership director, Marge Freundl, for a fascinating look at the rise of mis- and disinformation, as well as the best strategies for challenging and debunking false information.
Watch the video here.
Voter Registration
– Be sure you are registered. Check with your local clerk.
– Check Vote411.org for more information
– Student Voter Registration: Register online or in person. Read more
Vote411: Your one-stop shop for election information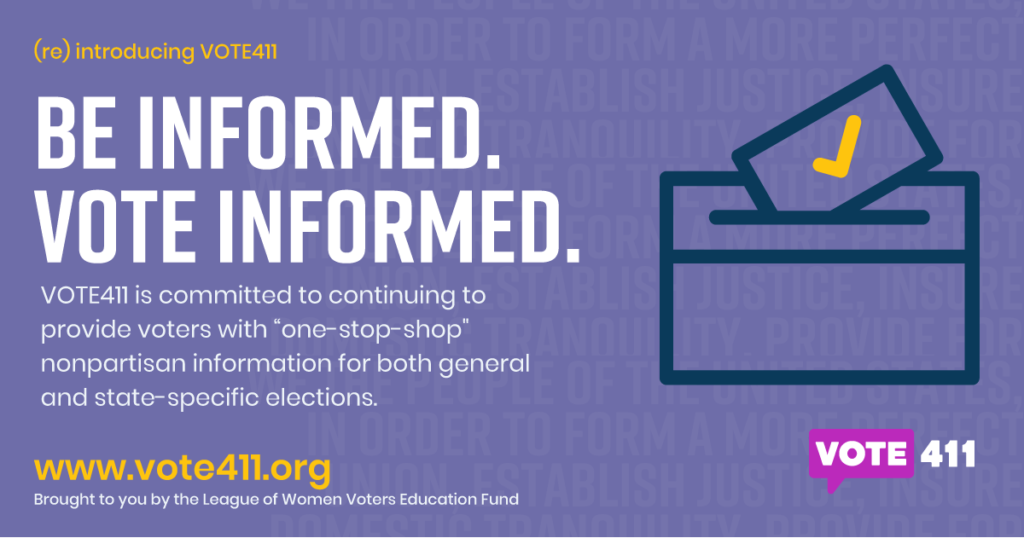 Ahead of the primary and general elections, the League of Women Voters, Grosse Pointe, offers the nonpartisan election resource VOTE411.org.
This "one-stop shop" for election information provides voters with simple, accessible tools to help them navigate the voting process. VOTE411 provides personalized candidate information, voter registration details, polling place locations, and other helpful election information for all voters nationwide.
*** If you know someone who is confused by the mechanics of filling out a ballot, the nonpartisan MichiganVoting.org has shared an informative one-minute video, How to fill out your ballot. ***
Diversity, Equity, and Inclusion Policy
The League of Women Voters, in both its values and practices, affirms its belief and commitment to diversity and inclusion. LWV recognizes that diverse perspectives are important and necessary for responsible and representative decision-making, and subscribes to the belief that diversity and inclusion are fundamental to the values it upholds. Inclusiveness enhances the organization's ability to respond more effectively to changing conditions and needs, and therefore, LWV will in both principles and practices promote the inclusion in participation in any activity of LWV all persons whatever their gender, race, socio-economic status, creed, age, sexual orientation, national origin or disability. Read the League's policies that define its commitment to diversity, equity, and inclusion by clicking here