Home
Welcome to the League of Women Voters of Grosse Pointe
Serving the Grosse Pointe and Harper Woods communities since 1950
*** Look for information about any candidate on the League of Women Voters nonpartisan Voter Guide at Vote411.org ***
School Board candidate forum generates enthusiastic response
Did you miss the September 27 Grosse Pointe School Board candidate forum? You can now watch the recording right here on the LWVGP's YouTube channel.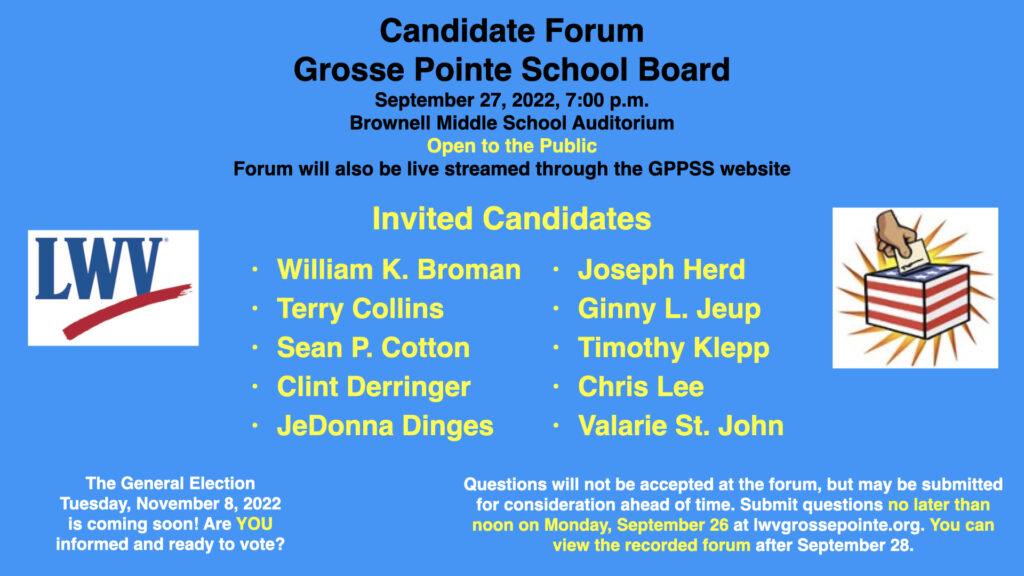 About 250 people turned out in person at the Brownell Middle School Auditorium for the League of Women Voters of Grosse Pointe-sponsored candidate forum – the first in-person forum since the pandemic began. Hundreds more viewed it on live stream.
All 10 candidates fielded questions, drawn from some 200 submitted online. Lauri Read, vice president, Voter Services, introduced the program, which was moderated by LWVGP President Sue Acton.
You can also view the program throughout the weekend on the Grosse Pointe Public School System's Educational Access channel (Comcast 20 and WOW 15) at noon and 9 p.m.
Statewide 2022 Non-Partisan Voter Guide now available
The League of Women Voters of Michigan's indispensable 2022 Non-Partisan Voter Guide is here!
The guide features information on all statewide races and Congressional races in the Nov. 8 general election, along with explanations of statewide ballot issues and voting guidelines.
See the guide here.
The Michigan League develops the guide based on answers provided by candidates about their backgrounds and issues. The answers are printed as submitted and have not been edited, except when replies exceeded the stated character limitations or violated content guidelines.
Visit Vote411.org for updated statewide candidate information, as well as details on Michigan state legislative candidates and local races and ballot proposals.
League of Women Voters of Michigan hosts forum with Michigan Supreme Court candidates
Michigan voters had the opportunity to hear from candidates seeking seats on the Michigan Supreme Court during a virtual candidate forum today hosted by the League of Women Voters of Michigan and the Jewish Bar Association of Michigan.
A recording of the candidate forum is available online.
Learn more about local candidates in virtual candidate forums
The League of Women Voters, Grosse Pointe offered several virtual candidate forums for the August 2 Primary races. All forums were privately recorded via Zoom, with League members serving as moderators and timekeepers.
Nonpartisan candidate forums are a part of LWV history. Leagues around the country continue to hold debates and forums for local and state offices. View completed forums at the links below:
Voter Registration
– Be sure you are registered. Check with your local clerk.
– Check Vote411.org for more information
– Student Voter Registration: Register online or in person. Read more
Vote411: Your one-stop shop for election information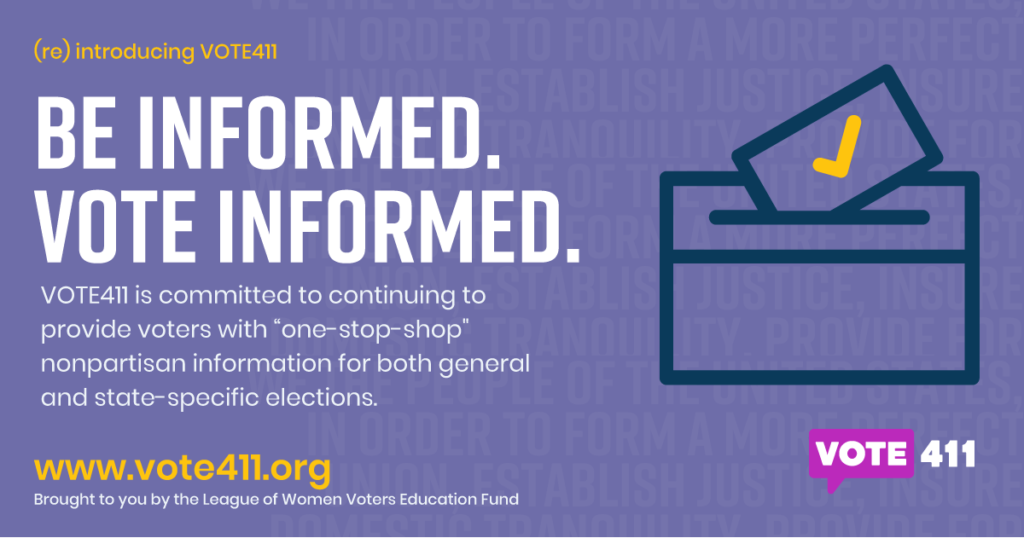 Ahead of the primary and general elections, the League of Women Voters, Grosse Pointe, offers the nonpartisan election resource VOTE411.org.
This "one-stop shop" for election information provides voters with simple, accessible tools to help them navigate the voting process. VOTE411 provides personalized candidate information, voter registration details, polling place locations, and other helpful election information for all voters nationwide.
Diversity, Equity, and Inclusion Policy
The League of Women Voters, in both its values and practices, affirms its belief and commitment to diversity and inclusion. LWV recognizes that diverse perspectives are important and necessary for responsible and representative decision-making, and subscribes to the belief that diversity and inclusion are fundamental to the values it upholds. Inclusiveness enhances the organization's ability to respond more effectively to changing conditions and needs, and therefore, LWV will in both principles and practices promote the inclusion in participation in any activity of LWV all persons whatever their gender, race, socio-economic status, creed, age, sexual orientation, national origin or disability. Read the League's policies that define its commitment to diversity, equity, and inclusion by clicking here