Join
Join the League of Women Voters, or renew your membership,  and be a member of an organization that is:
Empowering millions of voters to exercise their right to vote by holding voter registration drives, sponsoring candidate forums and debates, and educating the public about their rights on Election Day.
Protecting the right to vote against threats and ensuring that every vote is counted by fighting for and implementing voting systems that are free, fair and accessible.
Advocating for positive change at the local, state and national level on issues such as education, government accountability and money in politics.
Fostering civil dialogue about important community issues, such as government spending, climate change, immigration and civil liberties.
Dues are:
$60 Individual ($62 for PayPal fee)
$90 Two in a household ($93 for PayPal fee)
$5 Student ($6 for PayPal fee)
Please note:  Our local league keeps $5 of the membership fee for local activities. The balance is allocated for state and national League initiatives.
Now you have two ways to join the League of Women Voters or renew your annual dues: Pay Pal OR Pay by check.
PayPal Click here to pay using this convenient and secure option. NOTE: The link goes to DONATE. Please use the edit function to indicate that this is for MEMBERSHIP.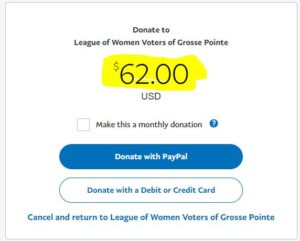 Pay by Check Click here to print out our membership form and mail it in.