Contact Your Officials
How to Reach Your Government: Links to the Contact Pages of Your Federal, State, and County Officials
FEDERAL LEVEL
Click To Contact Your US Government Officials:
STATE LEVEL
Click to Contact Your MI Government Officials
WAYNE COUNTY LEVEL
Click To Contact Your County Officials:
GOVERNMENT WEBSITES: ELECTION INFORMATION
How to research the status of a piece of legislation:
Federal: Check out Congress.gov (prev. called THOMAS) Here's where you can find not just US legislation, but also the Congressional Record, & Roll Call Votes
State of Michigan: Check out Legislature.mi.gov Here's where you can find Michigan's Bills, Public Acts, and Journals (with votes)
PRINT YOUR OWN COPY OF THE LWVGP PAMPHLET:
"YOUR GOVERNMENT OFFICIALS"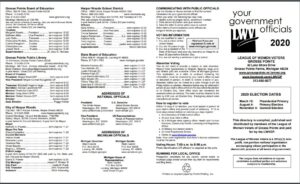 LWVGP's comprehensive brochure which lists the officials who represent you in the many different levels of government is now available!
Look for it at local city halls, schools, libraries and other civic institutions.
You can also print it out here: YGO – Front and YGO – Back

League of Women Voters of Grosse Pointe
32 Lake Shore Rd
Grosse Pointe Farms, MI 48236

Serving the Grosse Pointes and Harper Woods Communities