Citizens Redistricting Commission
DEADLINE APPROACHING FOR APPLYING TO THE MICHIGAN'S INDEPENDENT CITIZENS REDISTRICTING COMMISSION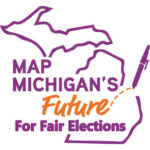 APPLY ONLINE TODAY with an E-Notary via Zoom
You have until June 1 to submit your notarized application to the Secretary of State.
1 Visit Redistrictingapplication.sos.state.mi.us and fill out your online application.
2 Save a PDF copy of your completed application. Do not sign it until in presence of notary
3 Visit SOS-How to notarize your redistricting application to schedule an online notary appointment
4 You'll need the following items ready for your E-Notary via Zoom:
Valid state ID
Smartphone, tablet or computer with webcam
Completed and printed application
5 Follow the notary's instructions for notarizing your completed application
6 Email your completed and notarized application to MDOS-NotarizedApplication@Michigan.gov
Fliers explaining the timeline & process for joining the commission that'll draw Michigan's political district lines are:
Applying, selection and serving
2020 CITIZENS REDISTRICTING COMMISSION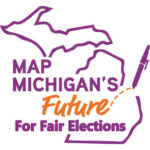 SPECIAL ALERT: Applications Now Being Accepted for the Citizens Redistricting Commission
Michigan Secretary of State Jocelyn Benson announced at a press conference that the application process is now open for Michigan's Independent Citizens Redistricting Commission.
According to the Secretary of State "all applications must be printed and notarized before being returned to the Michigan Department of State by June 1, 2020."
Fliers explaining the timeline & process for joining the commission that'll draw Michigan's political district lines are:

League of Women Voters of Grosse Pointe
32 Lake Shore Rd
Grosse Pointe Farms, MI 48236

Serving the Grosse Pointes and Harper Woods Communities