ADVOCACY
HAPPY CENSUS DAY! IT'S TIME TO GET COUNTED!
April 1 was Census Day, the official launch of the 2020 Census! As so much around us is rapidly changing, the census is one thing that remains the same. It is one action that we can still take to support our communities and participate fully in our democracy.
Completing the census is about collecting the necessary information to determine funding for our community needs. Census data is used to distribute billions of dollars in funding that goes to ensure that public safety, health facilities, businesses, and communities have the resources they need to take care of their communities. In these times of uncertainty and physical distancing, standing together in with our communities is ever more important.
Click here to be directed to the official site of the U.S. Census Bureau
Click here for the revised timeline adjustments
FEBRUARY 14th: LWV's 100th ANNIVERSARY
February 14th, 2020, marks 100 years that the League of Women Voters has empowered voters and defended democracy. Over the last century, we've fought for election protection, democratic reforms, and equal access to the ballot—all while maintaining our commitment to nonpartisanship and fostering an informed electorate.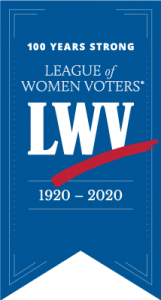 We have demonstrated our League power through League action. Thanks to the incredible commitment of our League members, volunteers, and Leaders, we are thrilled to be in celebration with 339 Leagues across the nation today! None of this could have happened without the power and excellence of the people who make up our League.
As we look to our next hundred years, our organization will only continue to attract a tenacious and powerful membership focused on protecting our democracy every step of the way! We have already shown our communities that we fought hard for 100 years for a better democracy and we are prepared to fight hard for another 100 more.
Read more about the League's history at LWV.org
How to research the status of a piece of legislation:
Federal: Check out Congress.gov (prev. called THOMAS) Here's where you can find not just US legislation, but also the Congressional Record, & Roll Call Votes
State of Michigan: Check out Legislature.mi.gov Here's where you can find Michigan's Bills, Public Acts, and Journals (with votes)

League of Women Voters of Grosse Pointe
32 Lake Shore Rd
Grosse Pointe Farms, MI 48236

Serving the Grosse Pointes and Harper Woods Communities