Decline to Sign: The Secure MI petition
Secure MI Vote petition makes voting more difficult for many Michigan voters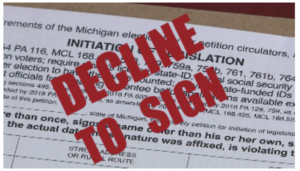 Voting is our foremost democratic process. Many people throughout history have fought for the right of specific groups to vote.
Secure MI Vote is a petition drive to enact legislation that would take away Election Day voting options, make absentee voting less accessible and gut funding for election administration in Michigan. It threatens to derail decades of progress.
In short, it would make voting harder for many people.
The League of Women Voters of Grosse Pointe, along with other local Leagues and the League of Women Voters of Michigan are working hard to educate voters on the security of our elections.
Here is what is in the petition:
Proposed photo ID requirements
Michigan already requires residents to present photo identification when registering to vote, and voters are required to present photo ID when voting in person.
Registered voters who don't have their photo ID at the polls can verify their identity at their polling location by taking an oath and signing the Affidavit of Voter Not in Possession of Picture Identification. Secure MI Vote would eliminate this affidavit and require voters to cast a provisional ballot. The voter would then have 6 days to take their photo ID to the clerk's office before their ballot can be counted. In the 2020 presidential election, only 0.2% of Michiganders used this signed affidavit, which was 11,400 votes out of 5.5 million total votes cast in the state.
Citizens who vote by absentee ballot would be required to put their driver's license number or last 4 digits of their social security number on their ballot when it is submitted. This is both a security issue and another chance for errors to be made in accepting ballots.
Restricting how absent voter ballots can be sent
Under the Secure MI Vote petition, election officials cannot send absentee ballots or ballot applications to registered voters unless the voter requests one. Secure MI Vote wants to prevent the Secretary of State, any local clerk or any of their employees from sending or "providing access to" unsolicited absent voter applications or ballots. An application for an absentee ballot could not be put on-line for easier access.
Voter Access Fund
The proposal seeks an appropriation of $3 million for a Voter Access Fund, administered by the state treasury, to cover the costs of individuals who need identification to vote. This one-year appropriation, if approved by the Michigan Legislature, would prevent a vote of the people from overturning the law, further denying voters of Michigan a voice on this issue.
Limiting election funding
Secure MI Vote seeks to prevent state and local election officials from accepting election funding from parties outside of the government. Private organizations would not be able to donate money or in-kind contributions toward any activity or item related to an election. This could include prohibiting religious and other private organizations from providing churches and other buildings as polling places on Election Day. It could also keep organizations, such as LWV, from providing assistance with mailing ballots.
This petition initiative comes after the 2020 election, amid several claims of fraud and the presidential election results were unfair or not secure. However, those claims were proven false because multiple audits, court cases and a report by the Michigan Senate Oversight Committee affirmed our election was fair and secure. The proposals in the initiative have already been passed by the Legislature and vetoed by the Governor.
Michigan already has safeguards for elections. Not only is the proposal unnecessary, it disenfranchises voters from participating in the democratic process which so many people have fought for.