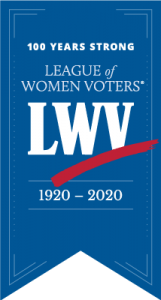 February 14th: LWV's 100th anniversary
February 14th, 2020, marks 100 years that the League of Women Voters has empowered voters and defended democracy. Over the last century, we've fought for election protection, democratic reforms, and equal access to the ballot—all while maintaining our commitment to nonpartisanship and fostering an informed electorate.
We have demonstrated our League power through League action. Thanks to the incredible commitment of our League members, volunteers, and Leaders, we are thrilled to be in celebration with 339 Leagues across the nation today! None of this could have happened without the power and excellence of the people who make up our League.
As we look to our next hundred years, our organization will only continue to attract a tenacious and powerful membership focused on protecting our democracy every step of the way! We have already shown our communities that we fought hard for 100 years for a better democracy and we are prepared to fight hard for another 100 more.
Read more about the League's history at LWV.org