VOTER SERVICES
JUNE 17 PRIMARY ELECTION CANDIDATE FORUM: MI HOUSE DISTRICT 2
The invited candidates are: Taylor Harrell (D), Mayra Rodriguez (R), Joseph Tate (D)
The Forum will be online via Zoom
Wednesday, June 17, 2020
7-8:30 pm
You can participate by submitting questions (for the candidates to answer) by noon June 16 to: lwvgrossepointe@gmail.com. Please include "Candidate Forum Question" in the Subject Line.
FYI: District 2 includes the City of Grosse Pointe, GP Farms, GP Park & parts of Detroit.
Sponsored by:
League of Women Voters – Grosse Pointe and
League of Women Voters – Detroit
ABSENTEE VOTING IN MICHIGAN

An important reminder (especially after witnessing those very long voter lines in other states' primaries!), that thanks to the passage of Promote the Vote in 2018, Michigan now has "no-reason Absentee Voting".So should you prefer to vote in the comfort of your own home, you can request an absentee ballot without needing a reason. Then you may either mail it in or drop it off with your local clerk.
Go to Michigan.gov/sos to request your absentee ballot. Also, please note that you will be given the option to make this request permanently or just for the next upcoming election.
PRINT YOUR OWN COPY OF THE LWVGP PAMPHLET:
"YOUR GOVERNMENT OFFICIALS"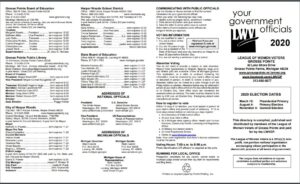 LWVGP's comprehensive brochure which lists the officials who represent you in the many different levels of government is now available!
Look for it at local city halls, schools, libraries and other civic institutions.
You can also print it out here: YGO – Front and YGO – Back
REGISTER ONLINE TO VOTE

From the office of Secretary of State Jocelyn Benson:
"We are pleased to announce that the Online Voter Registration website is now available and can be found at
www.Michigan.gov/VoterRegistration
Registering to vote has never been easier and can be accomplished by navigating five easy screens:
1) Welcome screen 2) Qualifications 3) Personal information 4) Address 5) Congratulations screen with receipt option
To use this convenient website, visitors must currently have a Michigan Driver's License or Personal Identification Card and qualify to vote in the state of Michigan (i.e., citizen, age, residency).
New registrations and changes of addresses will be passed to the Qualified Voter File (QVF) in real time!
2020 CITIZENS REDISTRICTING COMMISSION
THE DEADLINE IS FAST APPROACHING: APPLY BY JUNE 1ST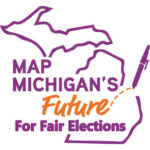 SPECIAL ALERT: Applications Now Being Accepted for the Citizens Redistricting Commission
Michigan Secretary of State Jocelyn Benson announced at a press conference that the application process is now open for Michigan's Independent Citizens Redistricting Commission.
According to the Secretary of State "all applications must be printed and notarized before being returned to the Michigan Department of State by June 1, 2020."
Fliers explaining the timeline & process for joining the commission that'll draw Michigan's political district lines are:
Voters need simple, helpful tools to navigate the voting process & election day, and Vote411.org is the nation's premiere, on-line election resource. To build your personalized voter guide, go to Vote411.org, which provides voter guides and information on polling place, voting hours, and tips about voting in Michigan.
Check it out by going to: Vote411.org
1) Type in your complete address
2) Click "Find What's On Your Ballot"
3) Click "Show my races"
4) Click the individual candidates to read their responses and compare their qualifications
MICHIGAN SECRETARY OF STATE (SOS) ELECTION INFORMATION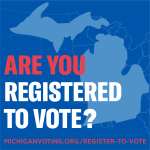 Need an absentee ballot? Click here for a
REDISTRICTING INFORMATION: KNOW YOUR DISTRICT
The Grosse Pointes & Harper Woods are in US Congressional District 14.
Grosse Pointe Woods, Grosse Pointe Shores, and Harper Woods are in Michigan House District 1.
Grosse Pointe, Grosse Pointe Park, and Grosse Pointe Farms are in Michigan House District 2.

League of Women Voters of Grosse Pointe
32 Lake Shore Rd
Grosse Pointe Farms, MI 48236

Serving the Grosse Pointes and Harper Woods Communities