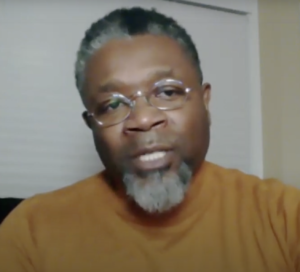 Daniel Baxter
Daniel Baxter: "Go where the people are who we want to recruit"
How can the League of Women Voters promote a diverse membership? Our Feb. 24 Zoom program targeted relationship-building and the use of data to encourage diversity in local leagues. We were joined by representatives from other Southeast Michigan chapters for this special event.
Guest speaker Daniel Baxter, a special administrative consultant to the Detroit City Clerk, said the demographics of Michigan and other northern states began shifting in the early 20th century in the Great Migration, when job seekers left the South for the promise of job opportunities in the North.
Baxter also compared changes in Wayne County's U.S. Census data from 2000 to 2010, when the county's population declined by 25%, with people moving to other Michigan locations and out of state. He compared racial composition during that decade in the cities of Grosse Pointe Farms and Dearborn. While Grosse Pointe Farms experienced a reduction in white residents and an increase in Black, Asian-American and other non-white citizens, Dearborn's population increased overall, with more whites, Arab Americans and Black residents, and fewer people who identified as "two or more races".
Baxter proposed strategies to help the League become a more diverse and welcoming organization:
— Forge new relationships with community organizations (churches, colleges and universities, within and next to the city). "Go where the people are who we want to recruit," he said.
— Expand use of technology (TikTok, Instagram, Snapchat).
— Work with city clerks to identify newly registered voters and reach out to them to provide education.
— Develop short, succinct messages. Our targeted populations have multiple priorities and like short presentations. Baxter presented a 1-minute LWV video, linked below.
— Review our branding for possible changes.
— Use word-of-mouth recruitment. Tap our children and grandchildren as sounding boards for suggestions on how to recruit a younger, more diverse population. What are their specific needs? How we can relate those to registering and voting?
— Be more aggressive in our approach to voter apathy. Draw a link between voter apathy and threats to our democracy.
If we want to create a new League, and we need a new paradigm, with the goal that everyone who is eligible is registered and everyone who is registered votes. Our message: Exercise your right to vote and keep your community's condition in shape.
Click here to watch the 1-minute LVWUS video clip presented during program.
View the March 23 program on our YouTube channel.
—