2021 Your Government Officials Guide available now
LWVGP's comprehensive brochure, which lists the officials who represent you in the many different levels of government, is available now for download and printing: 2021 YGO – Front and 2021 YGO – Back
Program: Life's Challenges in the Coronavirus Community
This Nov. 11 program focused on how people in our local community are dealing with the challenges of COVID-19 and what changes have occurred in their lives since the pandemic. Click here to view the video on our YouTube Channel.
Weaving the Fabric of Diversity video available
Did you miss our Oct. 22 program, Weaving the Fabric of Diversity? Our speaker – Dr. Alexander Riegel, minister of the Grosse Pointe Unitarian Church – shared the benefits of articulating a positive vision of diversity, which should serve as the foundation of a new understanding of our common humanity. He also gave examples of how historical narratives have determined the current state of our society and the future state of our society.
The program was sponsored by the League's Diversity, Equity and Inclusion Committee and is a result of the partnerships the LWV is forming with various community organizations to promote social justice. A video recording is available on our YouTube channel.
Thanks to our many volunteers who assisted with absentee ballot mailing in Grosse Pointe Farms on Sept. 22.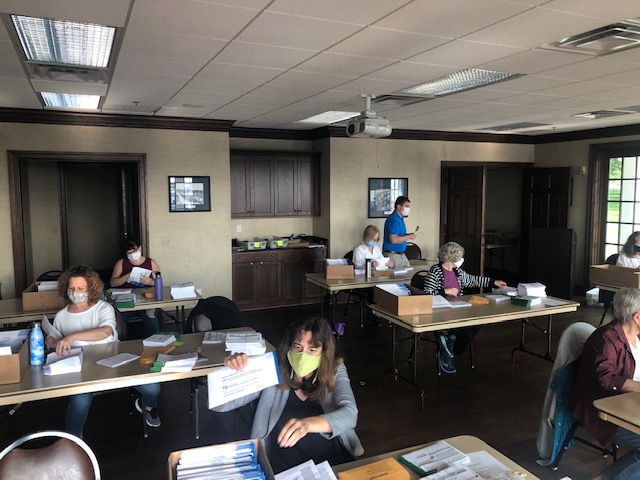 Michigan Secretary of State (SOS) election information
Check your Voter Registration & View a Sample Ballot
Diversity, Equity, and Inclusion
The League of Women Voters, in both its values and practices, affirms its belief and commitment to diversity and inclusion. LWV recognizes that diverse perspectives are important and necessary for responsible and representative decision making, and subscribes to the belief that diversity and inclusion are fundamental to the values it upholds.
Inclusiveness enhances the organization's ability to respond more effectively to changing conditions and needs, and therefore, LWV will in both principles and practices promote the inclusion in participation in any activity of LWV all persons whatever their gender, race, socio-economic status, creed, age, sexual orientation, national origin or disability.
Read the League's policies that define its commitment to diversity, equity, and inclusion by clicking here and here. Read more