HOME
Time to renew your membership
JUNE 17 PRIMARY ELECTION CANDIDATE FORUM: MI HOUSE DISTRICT 2
The LWV Grosse Pointe's first virtual candidate forum, in collaboration with the LWV Detroit, was a huge success! Candidates Ms. Taylor Harrell and Representative Joe Tate participated in this event via Zoom. They were asked a series of questions submitted by League members and the general public.
A very special thanks to Rhonda Craig, Moderator and President, LWV Detroit, Mary Zahler, Producer and VP for Voter Services, LWV Grosse Pointe, and Sue Acton, timekeeper and President-Elect, LWV Grosse Pointe. This is an incredible milestone for our league!
You can view the forum on the LWVGP YouTube channel at the link below. Feel free to share this link with non-league members. We hope this provides you with insight on the candidates' positions before casting your ballot during the Aug. 4 Primary Election.
District 2 includes the City of Grosse Pointe, Grosse Pointe Farms, Grosse Pointe Park and parts of Detroit.
ABSENTEE VOTING IN MICHIGAN

An important reminder (especially after witnessing those very long voter lines in other states' primaries!), that thanks to the passage of Promote the Vote in 2018, Michigan now has "no-reason Absentee Voting".So should you prefer to vote in the comfort of your own home, you can request an absentee ballot without needing a reason. Then you may either mail it in or drop it off with your local clerk.
Go to Michigan.gov/sos to request your absentee ballot . Also, please note that you will be given the option to make this request permanently or just for the next upcoming election.
HAPPY CENSUS DAY! IT'S TIME TO GET COUNTED!
April 1 was Census Day, the official launch of the 2020 Census! As so much around us is rapidly changing, the census is one thing that remains the same. It is one action that we can still take to support our communities and participate fully in our democracy.
Completing the census is about collecting the necessary information to determine funding for our community needs. Census data is used to distribute billions of dollars in funding that goes to ensure that public safety, health facilities, businesses, and communities have the resources they need to take care of their communities. In these times of uncertainty and physical distancing, standing together in with our communities is ever more important.
Voters need simple, helpful tools to navigate the voting process & election day, and Vote411.org is the nation's premiere, on-line election resource. To build your personalized voter guide, go to Vote411.org, which provides voter guides and information on polling place, voting hours, and tips about voting in Michigan.
Check it out by going to: Vote411.org
1) Type in your complete address
2) Click "Find What's On Your Ballot"
3) Click "Show my races"
4) Click the individual candidates to read their responses and compare their qualifications
MICHIGAN SECRETARY OF STATE (SOS) ELECTION INFORMATION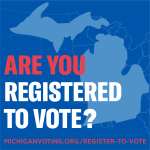 Need an absentee ballot? Click here for a
DIVERSITY, EQUITY AND INCLUSION
The League of Women Voters, in both its values and practices, affirms its belief and commitment to diversity and inclusion. LWV recognizes that diverse perspectives are important and necessary for responsible and representative decision making, and subscribes to the belief that diversity and inclusion are fundamental to the values it upholds.
Inclusiveness enhances the organization's ability to respond more effectively to changing conditions and needs, and therefore, LWV will in both principles and practices promote the inclusion in participation in any activity of LWV all persons whatever their gender, race, socio-economic status, creed, age, sexual orientation, national origin or disability.
Read the League's policies that define its commitment to diversity, equity, and inclusion by clicking here and here. READ MORE

League of Women Voters of Grosse Pointe, 32 Lake Shore Rd., Grosse Pointe Farms, MI 48236
Serving the Grosse Pointes and Harper Woods Communities.