Welcome to the League of Women Voters of Grosse Pointe
Be sure to visit Vote411.org for candidate information
Click here to purchase YOUR Vote411 lawn sign!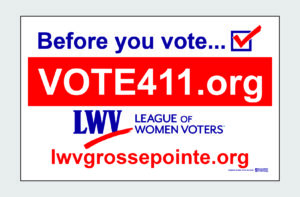 Candidate forum updates
GP Farms/Shores Judge Candidates Forum View the forum
GP Park Council Candidates Forum View the forum
LWVGP will be conducting candidate forums in September for contested November 2021 elections. Details regarding the format will be announced when available.
Michigan Leagues sponsor redistricting process town hall
The Michigan Citizens Redistricting Commission's (MICRC) work is well underway. Our League, along with 24 other leagues in the state, sponsored a virtual Town Hall on this historic new process on April 22. The public needs to provide input to the Commission to ensure a fair mapping process. The recording of the presentation is now available on the LWVGP YouTube Channel.
"Redistricting in Michigan has been a very political process that has historically taken place behind closed doors and out of the public eye," said LWVGP President Judy Florian. "This new independent process gives regular, everyday Michigan residents the ability to draw the state's legislative districts. We want the public to be empowered with information so they can participate in this important democratic process."
Leagues across the state have undertaken a widespread educational effort to help voters understand redistricting and to ensure the Michigan Independent Citizens Redistricting Commission is being what voters have asked: for citizens to draw district lines instead of legislators or special interests, and for the commission to respect Communities of Interest. This event was co-sponsored by the Grosse Pointe Public Library.
Read the Grosse Pointe News editorial on this Town Hall.
Congratulations to our LWVGP Belle Ringers!
Five members were recognized for their support of League priorities at the LWVMI Biennial Convention. Read more
Diversity, Equity, and Inclusion Policy
The League of Women Voters, in both its values and practices, affirms its belief and commitment to diversity and inclusion. LWV recognizes that diverse perspectives are important and necessary for responsible and representative decision-making, and subscribes to the belief that diversity and inclusion are fundamental to the values it upholds.
Inclusiveness enhances the organization's ability to respond more effectively to changing conditions and needs, and therefore, LWV will in both principles and practices promote the inclusion in participation in any activity of LWV all persons whatever their gender, race, socio-economic status, creed, age, sexual orientation, national origin or disability.
Read the League's policies that define its commitment to diversity, equity, and inclusion by clicking here and here. Read more